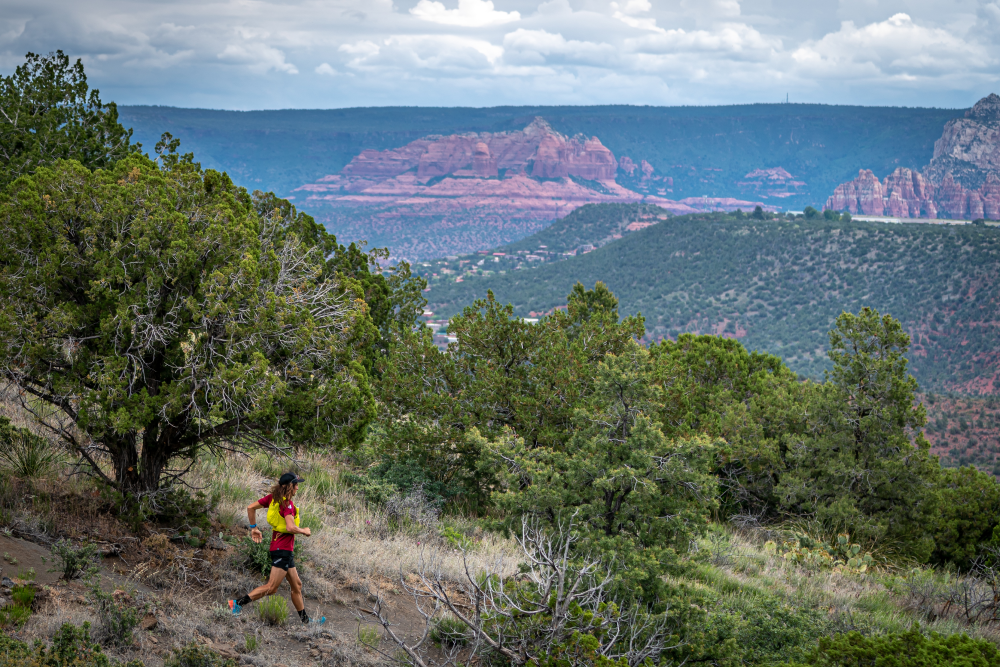 ---
Want to see all the race details? Checkout the RUNNER GUIDE for all the latest details.
Location
The race starts in Black Canyon City at Rock Springs Cafe and traverses a continuous 250 mile point-to-point route, ending in Flagstaff, Arizona.
Start
Rock Springs Cafe
35900 Old Black Canyon Hwy, Black Canyon City, AZ 85324
Finish
Heritage Square
Flagstaff, AZ 86001
Weather
Expect and plan for it all. Temperatures in the low desert regions could be warm to very hot during the day. High desert sections will be warm during the day and cool in the evenings. Once runners reach the higher altitudes temperatures may drop to freezing overnight and rain or even snow is possible. Many sections of the course are open and exposed with little to no shade.
Aid Stations
There are 21 aid stations spaced from 5-21 miles apart. Aid stations will all have water, an electrolyte drink, sodas, sweet snacks, salty snacks, fruit, and several "real food" selections. All aid stations will have vegan options available – please ask. Major aid stations (sleep stations) will have additional substantial meal choices.
Race Schedule
Saturday, May 1st, 2021
10:00 AM – 5:30 PM: Drive thru Race Check-in (OPTION 1) at Aravaipa office 2401 S. 24th St., Phoenix, AZ. No drop bags. Drop bags can be dropped at the Start Line on race morning.
Sunday, May 2nd, 2021
12:00 PM – 7:00 PM: Race Check-in (OPTION 2) and drop bag drop-off at Start Line (the dirt parking lot 600′ north of Rock Springs Cafe at 35900 S. Warner Rd, Black Canyon City, AZ)
Monday, May 3rd, 2021
4:45 AM – 7:45 AM: Drop bag drop-off, 3-liter capacity check, and SPOT Trackers issued. Arrive 45 minutes prior to assigned start time, no earlier.
5:00 AM – 5:50 AM: Race Wave Starts (30 runners every 10 minutes). Start time assignments and bib numbers can be found HERE.
LOTS of "running"
Wednesday, May 5th, 2021
4:55 PM: Estimated first runner to finish
Saturday, May 8th, 2021
10:50 AM: Course Cut-off
Crew
Runners are not required but certainly encouraged to have a crew. Crews are allowed at most aid stations along the course (reference Aid Stations section above). We ask crews to please follow any signage and directions from aid station staff at each aid station and please do not block any public roadways. Check out the Runner Guide for a ton of crew info and resources.
Crew may not meet their runner at any point on the course other than designated crew access aid station. Runners will be automatically disqualified for receiving aid from crew outside of crew access aid stations.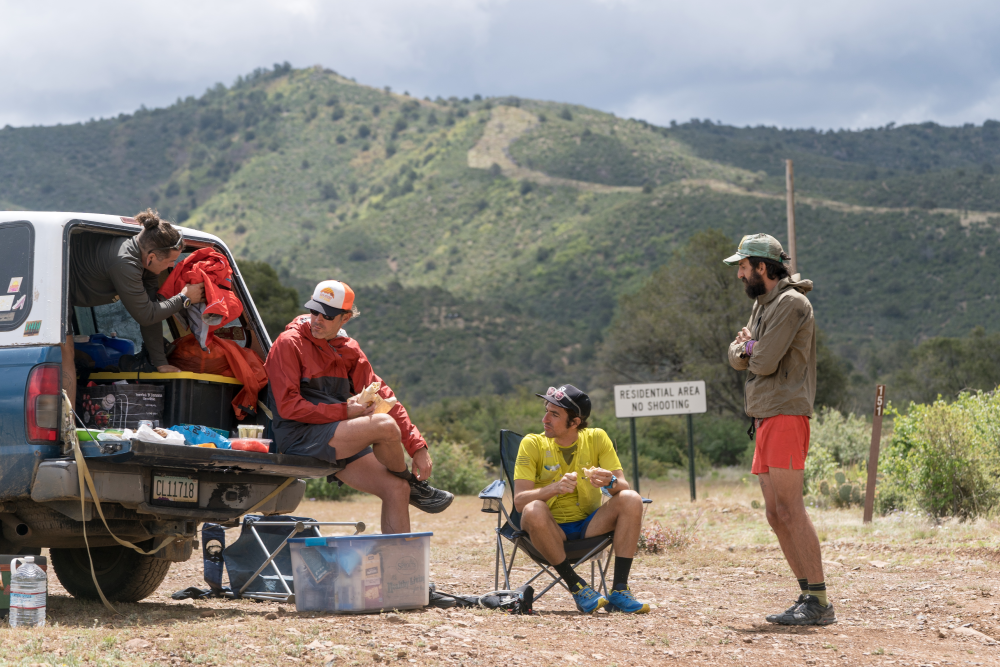 Pacers
Pacers are allowed starting at mile 72 (AS6 Camp Wamatochick) and are to accompany their runner on foot (no bikes). Multiple pacers may be used, but only one at a time and must swap out at designated pacer access aid stations.
Pacers will need to sign a pacer waiver which will be available at each pacer-access aid station. Pacers will be provided with a pacer bib which must be worn and visible while out on the course. Checkout more info for pacers in the Runner Guide.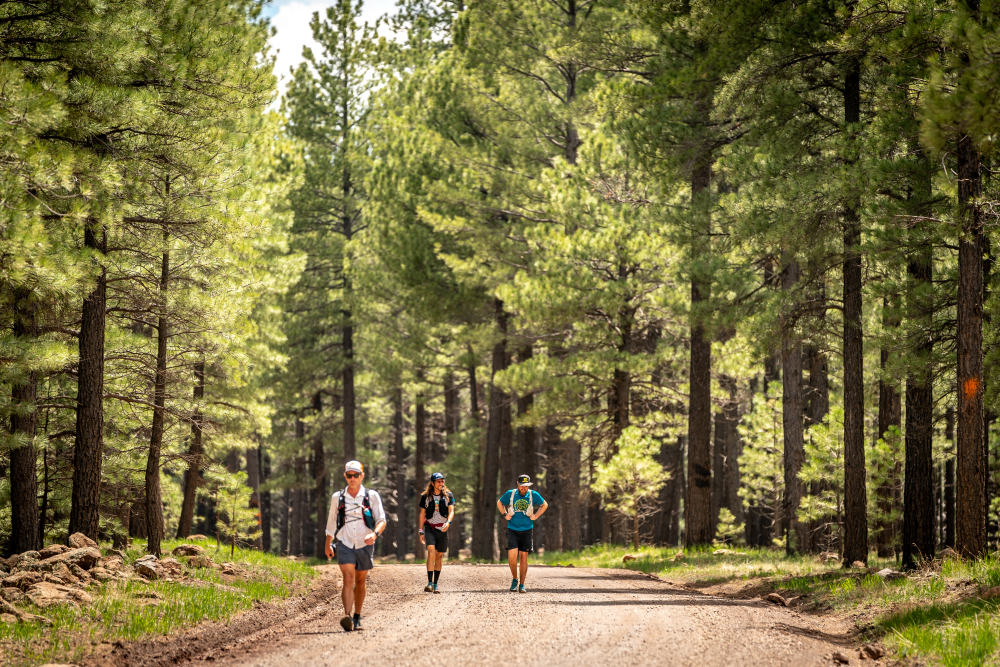 Volunteers
This race would not be possible without an incredible team of volunteers. Come help the dreams and goals of our runners become a reality on race day by volunteering. We will have roles from aid station captains, to course sweeps, to setup/breakdown, and more. Visit the volunteer page for more info.
Runner Guide
The Runner Guide has all the information runners, pacers, and crew will need to successfully navigate the race. Check out the Runner Guide here.
Course Marking
The course will be marked with orange plastic ribbons with black polka dots. Please pay attention to these signs at each junction. In addition, WRONG WAY flagging (blue & white checkerboard). Although the course will be adequately marked, runners will be required to carry a GPS enabled device with the course file and are responsible for understanding the layout of the course. Please familiarize yourself with the course maps on our website prior to race day.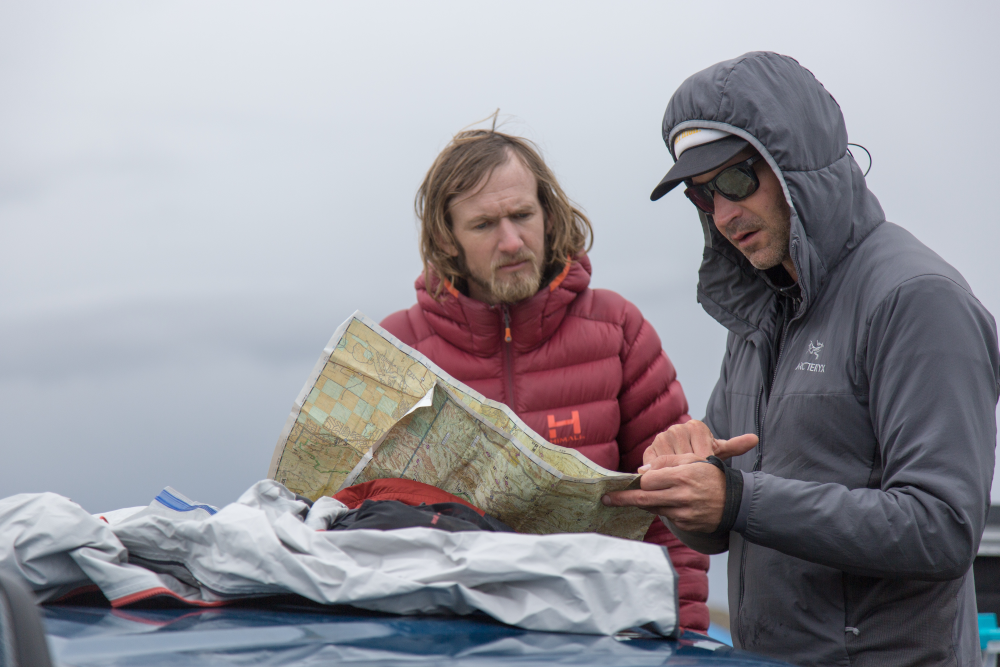 Sustainability
We are so lucky to make the outdoors our passion and we want to continue to keep the beautiful trails we enjoy clean and open for future use. We realize that an event of this magnitude has an environmental impact but Aravaipa has committed to minimizing that impact. To that end, Aravaipa will have recycling, composting, and Terracycling of wrappers at aid stations, will offset carbon footprint from staff travel, and the race will be cupless. We encourage runners to offset their own carbon footprint and we welcome any ideas you may have to increase the race's environmental sustainability. Explore, enjoy, protect!
What does CUPLESS mean? There will be no paper cups for cold drinks at the aid stations. Runners will be responsible for carrying their own containers to refill along the way. Grab a cup, a hydration vest, pouch, or water bottle and we will fill it at each aid station along the way. We ask you to help us in our efforts by preparing for a cup-free race day and thank you in advance for being good stewards of the trail. We will provide hot cups for coffee, broth, and soup.
We have paired with Terracycle to help collect and recycle gel packets, energy bar wrappers, and other generally non-recyclable materials that we find every day in the running community. Look for our Terracycle containers at each aid station.
Covid-19
The event industry came to a screeching halt at the beginning of 2020. We still don't know when or if things will go back to normal. The 2020 Cocodona race has been reconfigured to keep runners, pacers, crew, volunteers, staff, and the communities we run through safe. Please checkout the Runner Packet for all of our Covid protocols.
---