Course Overview
Distance: 255.8 Miles
Cutoff: 125 Hours
Surface Distribution
Single-Track: 43% Double-Track: 49% Pavement: 8%
Elevation Max: 9,013′
Elevation Min: 1,898′
Estimated Cumulative Gain: 42,313′
Estimated Cumulative Loss: 37,445′
Permitting Agencies: BLM (Hassayampa Field Office), Prescott National Forest (Bradshaw & Verde Ranger District), Coconino National Forest (Red Rock & Flagstaff Ranger Districts)
World Class Trail Systems: Black Canyon National Recreation Trail, Prescott Circle Trail, Arizona Trail, Flagstaff Loop Trail
Parks Visited: Jerome Historic State Park, Tuzigoot National Monument, Dead Horse Ranch State Park, Fort Tuthill County Park
Journey Through Mainstreet: Crown King, Prescott (Whiskey Row), Jerome, Clarkdale, Sedona, Flagstaff
Partner Towns & Communities: Crown King, City of Prescott, Town of Prescott Valley, Town of Jerome, Town of Clarkdale, Town of Cottonwood, City of Sedona, City of Flagstaff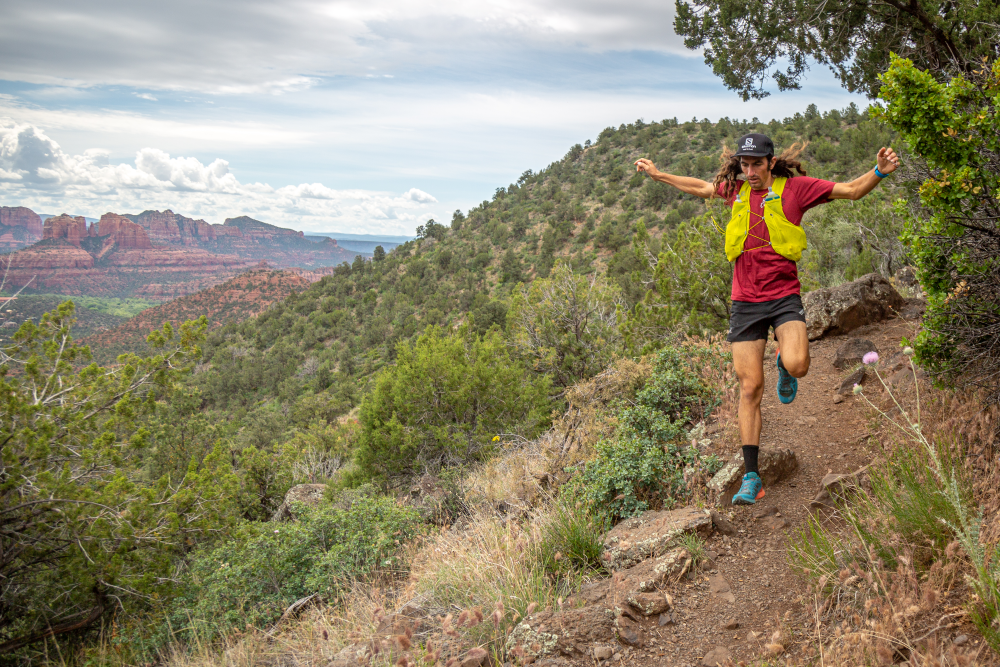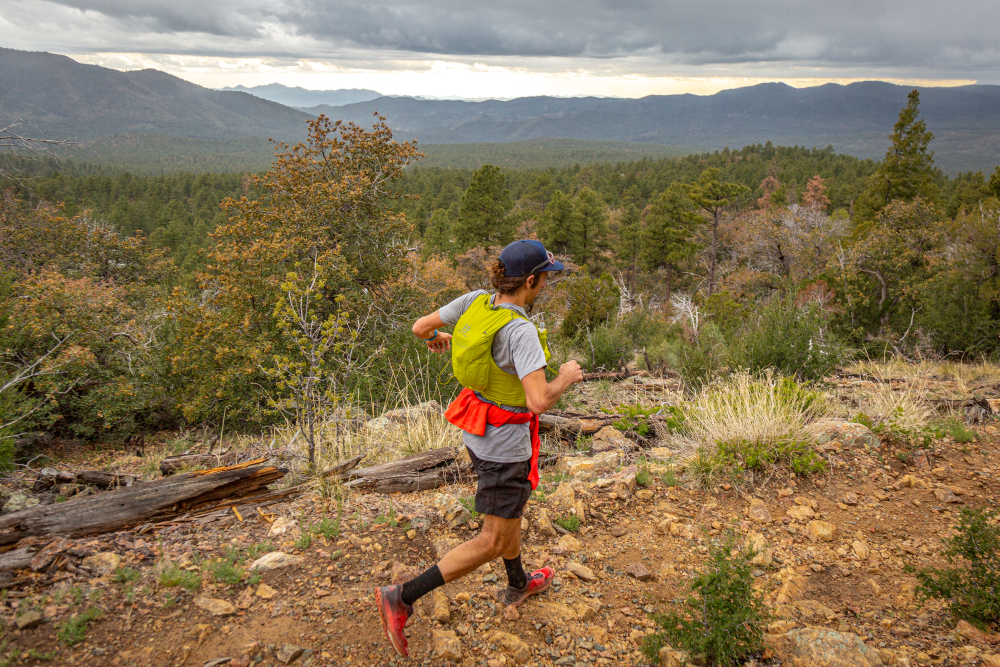 Course Map (2021 Course – Not yet updated for 2022)
Elevation Profile
Training on the Course
Not planning a 250 off the couch? It might be a good idea to get some training miles under your belt before May '21. We encourage you to get out on the course but there are some items you need to be aware of:
Private Property – There are two big sections of private property the race crosses. One is Fain Ranch in the Prescott Valley and the other is a combination of mining and various private parcels below Jerome. We have graciously been given approval to cross these areas during the race but they are NOT open to the general public.
Conditions – Be cognizant of your impact if it rains. If it is too muddy, run a different trail.
Gates – It's simple but very important…if you find a gate closed, close it behind you. If you find a gate open, leave it open.
Here is a link to the PUBLIC sections of the course with sections of private property removed. We have also slightly altered the course and broken it up into 11 sections that start/end at trailheads to make it easier for shuttle logistics. Obviously, you can start/end a training run wherever you would like, we're just trying to make it easier for you. Here are the sections:
Section A – 37.4 Miles – Black Canyon City Trailhead to Crown King Saloon.
Section B – 33.5 Miles – Crown King Saloon to Groom Creek Loop Trailhead
Section C – 23.2 Miles – Groom Creek Loop Trailhead to Prescott Valley
Section D – 16.8 Miles – Little Yaeger Canyon to Jerome
Section E – 12.7 Miles – Clarkdale River Access Trailhead to Deer Pass Trailhead
Section F – 12.8 Miles – Deer Pass Trailhead to Airport Mesa Trailhead
Section G – 19.9 Miles – Airport Mesa Trailhead to Outlaw Trailhead
Section H – 32.5 Miles – Outlaw Trailhead to Rogers Lake
Section I – 12.8 Miles – Rogers Lake to Flagstaff Pulliam Airport
Section J – 21.2 Miles – Flagstaff Pulliam Airport to Sandy Seep Trailhead
Section K – 12.4 Miles – Sandy Seep Trailhead to Heritage Square
For a little bit of background on each section, checkout our "about page".
GPS Enabled Device (Mandatory)
During the race, it is MANDATORY to carry a gps enabled device with the course file downloaded. This device can be a handheld GPS unit, watch, or smartphone. The smartphone is the easiest and least expensive option. To use a smartphone, install a mapping App such as Gaia, GuruMapsPro, TrailForks, or AllTrails to your phone. Then download the course GPX file from CalTopo (PUBLIC sections only or Entire Course) and open the file in the mapping App. The course will appear, as well as your location (blue dot). Badabing Badaboom. Protip – Place your phone in airplane mode to maximize battery life.
Any other question? Feel free to email the Race Director.
Happy Running!